UNIQLO Creates Over 1,000-Square-Meter 'LifeScape' Booth for China International Import Expo 2023
Monday, November 6th, 2023 - ACN Newswire Pte Ltd

Showcasing a new form of retail through state-of-the-art LifeWear for future lifestyles
Shanghai and Tokyo, Nov 6, 2023 - (JCN Newswire) - Global apparel retailer UNIQLO has officially launched its more than 1,000-square-meter LifeScape booth at the 2023 China International Import Expo (CIIE), taking place from November 5 to 10 in Shanghai. LifeScape presents a new vision for lifestyles and retail, showcasing the technological advances of UNIQLO LifeWear – simple, high-quality everyday wear that enhances the lives of all people with a practical sense of beauty and sophisticated design. Following a media preview on Sunday, LifeScape is now open to visit for the general public.
"As a global apparel brand, and based on our LifeWear philosophy, UNIQLO is committed to making everyone's life better through the power of clothing. We are happy to once again be participating in CIIE in 2023, and are excited to showcase the ongoing evolution of LifeWear to customers in China and around the world," said Jalin Wu, Executive Officer of Fast Retailing Group and Chief Marketing Officer of UNIQLO Greater China. "Bringing RE.UNIQLO STUDIO to CIIE for the first time alongside such new store concepts as UNIQLO FLOWER and UNIQLO COFFEE, we are taking this opportunity to show Chinese customers our vision for new forms of lifestyles and retail."
The theme of this year's CIIE is "New Era Shared Future." Exhibiting at CIIE for the fourth time this year, UNIQLO's LifeScape features distinctive zones that showcase new LifeWear products developed through technological advances, demonstrating how these innovations fit into daily life. At the booth, visitors are able to walk through creative installations and technology displays, across winter snow and cool summer, from nature to the city, exploring the many possibilities offered by LifeWear. Additionally, the UNIQLO booth takes CIIE beyond Shanghai, by playing host to a special space for LiveStation - UNIQLO's livestreaming shopping and style advice program that can be viewed anywhere by customers.
Epitomizing fashion, technology, and sustainability
Showcasing the evolution of LifeWear, on display are a range of products that epitomize fashion, technology, and sustainability. Visitors to LifeScape are welcomed by the latest Ultra Light Down, HEATTECH, and Fleece offerings, in addition to PUFFTECH garments, which are new for the 2023 Fall/Winter season and utilize air heating technology, and the China debut of Powder Soft Down.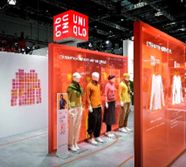 Powder Soft Down features superlative softness, lightness, and warmth through NANODESIGN™ technology developed in collaboration with world-leading materials manufacturer Toray Industries. Available in a rich array of colors, the jacket also features water-resistant and anti-static functionalities, and is easy to clean. Also featured at UNIQLO's LifeScape are the latest multi-functional Ultra Light Down products that are remarkably lightweight, warm, compact, portable, and water-repellent, as well as featuring an anti-static lining. 
In addition, the latest iterations of UNIQLO essentials, including Fleece and HEATTECH items, also feature at LifeScape. Building on 20 years of HEATTECH innovation, on display is a new Ultra Light Turtleneck Long-Sleeve T-Shirt made of fabric that is 20% lighter than regular HEATTECH.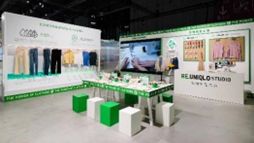 UNIQLO's repair, remake, and reuse service RE.UNIQLO STUDIO is also on display at LifeScape, with visitors able to experience the service themselves by remaking a tote bag. RE.UNIQLO STUDIO currently operates in 13 markets and regions globally, in over 30 in-store locations. With interest in sustainability activities growing across China, seen through the positive customer response to the service in the UNIQLO Shanghai Global Flagship Store, RE.UNIQLO STUDIO will continue its expansion internationally.
Finally, LifeScape is also a showcase for seamless integration of technology into the UNIQLO customer experience. Visitors are able to use their devices to scan codes on highlighted items for more information, as well as add their favorite items to their shopping basket on the spot, enjoying sales as part of UNIQLO's Double 11, or Singles' Day, promotion taking place from November 1 to 16.
About UNIQLO and Fast Retailing
UNIQLO is a brand of Fast Retailing Co., Ltd., a leading Japanese retail holding company with global headquarters in Tokyo, Japan. UNIQLO is the largest of eight brands in the Fast Retailing Group, the others being GU, Theory, PLST, Comptoir des Cotonniers, Princesse tam.tam, J Brand and Helmut Lang. With global sales of approximately 2.77 trillion yen for the 2023 fiscal year ending August 31, 2023 (US $18.92 billion, calculated in yen using the end of August 2023 rate of $1 = 146.2 yen), Fast Retailing is one of the world's largest apparel retail companies, and UNIQLO is Japan's leading specialty retailer.
UNIQLO continues to open large-scale stores in some of the world's most important cities and locations, as part of its ongoing efforts to solidify its status as a global brand. Today the company has a total of more than 2,400 UNIQLO stores across the world, including Japan, Asia, Europe and North America. The total number of stores across Fast Retailing's brands is now close to 3,600.
With a corporate statement committed to changing clothes, changing conventional wisdom and change the world, Fast Retailing is dedicated to creating great clothing with new and unique value to enrich the lives of people everywhere. For more information about UNIQLO and Fast Retailing, please visit www.uniqlo.com and www.fastretailing.com.
For media queries, please contact: Fast Retailing Global Corporate PR at [email protected]
Contact Profile
Keywords
UNIQLO
Newsrooms
Sharing
More Formats