acQuire reveals fresh new look for environmental software - EnviroSys
Monday, February 28th, 2022 - acQuire Technology Solutions
acQuire has been working behind the scenes to unveil a fresh new look for their environmental data management solution, EnviroSys.
The restyled EnviroSys logo aligns the software with the acQuire brand and represents a renewed focus on simplicity and elegance.
And it's more than just a lick of paint — acQuire has done some sprucing, tidied up, restyled and will be adding some great improvements to their environmental data management software in an upcoming release.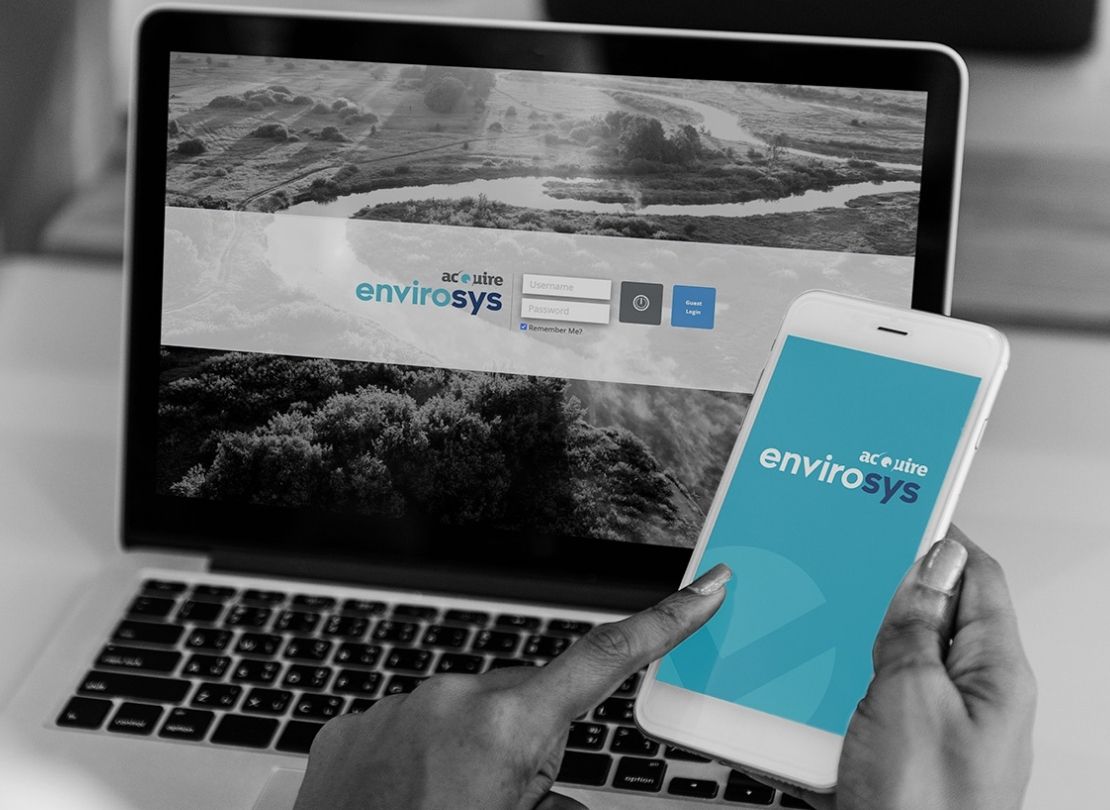 Stuart van de Water, acQuire's Environmental Leader, is excited to see the improvements launch with the next software release, EnviroSys 9.
"The new look EnviroSys reflects our aim to ensure our environmental data management capability goes from strength to strength.
Our goal is to make sure EnviroSys continues to be one of the best environmental data management systems on the market."  
The next version of EnviroSys is due in April 2022 and is the culmination of EnviroSys team's efforts to improve the software, including:
Unifying the user experience for one consistent way to access EnviroSys

Enhancing the visibility of data feeds and improving data loading so you have quicker access to environmental compliance data for your downstream processes

Updating the user interface with a fresh new look and easier navigation

Streamlining and standardising user security with an industry-standard, cloud-based licence management platform

Enhancing the learning and support ecosystem, with a redeveloped help system and knowledge base
acQuire's EnviroSys software is focused on quality and compliance. It allows you to store, manage, and access any type of environmental data, whether it's collected from a lab or logger, out in the field or in the office. EnviroSys provides complete transparency and ensures you can always answer the question, "Are we compliant right now?".
For more information about how EnviroSys and how it can benefit your next environmental program, head to the acQuire website www.acquire.com.au.
File Library
Contact Profile
acQuire Technology Solutions
---
acQuire provides geoscientific data management software and services so customers can make profitable business decisions using data assets they trust. We work with the world's leading organizations, delivering by helping them manage their mining and environmental data assets, in a smarter, more streamlined manner.
acQuire's software is paired with product support services and accredited training to meet customer's evolving technology needs.
Founded in 1996, acQuire originated in Perth, Western Australia and since 2018 has been a part of Constellation Software, Inc via its operating group, Vela Software. acQuire currently has six offices around the globe, with customer support centers operating in each major time zone.
---
Meesha Stacker
P: +61 8 93166600
W:
www.acquire.com.au
Keywords
acQuire has been working behind the scenes to unveil a fresh new look for their environmental data management solution, EnviroSys.
Categories
Newsrooms
Sharing
More Formats