Send Red Hot Chicken Love this Valentine's Day
Thursday, December 3rd, 2015
If someone in your life loves their chooks (or even if you are looking for Valentine gifts for your girls) then here are the perfect gifts of love for them from Omlet....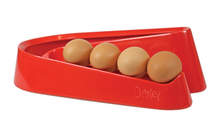 Ramp up your egg love life with this shiny egg ramp, not only will your eggs feel loved, but it also keeps them in date order, so no longer do you need to spend hours working out which egg came first! Available online for $19 plus postage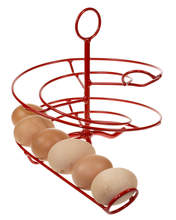 Eggs will slowly roll down on the ride of their life with the red egg skelter! Watch as your eggs snuggle up at the end of the ride ready to be used and you will feel safe knowing that you are using the oldest egg first... Available online for $39 plus postage
Give your chooks love in a beautiful new red Eglu Cube chicken house.... From the red feeder and drinker to the red ladder your chooks will know that they are well and truly loved as they snuggle up in a house safe from foxes, dogs, possums and more.
The Eglu Cube house is suitable for up to 10 chooks depending on their size, easy to move around, easy to clean and fox proof you will fall in love with this chicken house. Available online from $1399 plus delivery Also available in pink....
All the Omlet products are available online at www.Omlet.com.au
File Library