Asia Pacific Compact Track Loader Market: Application in Construction Industry to Surge by 1.3x through 2028
Friday, September 7th, 2018 - Fact.MR
With better productivity at low operational costs, compact track loader has been gaining higher traction over skid steer loader in the recent times. According to a market intelligence published by Fact.MR, compact track loader market in Asia Pacific is directly influenced by key players investing on construction projects in emerging economies such as China and India. Owing to incessant development in building construction and infrastructure, the sales of compact track loader in Asia Pacific increased by 22% in 2017. Further, continuous efforts of manufacturers to increase the number of attachments in compact track loader is expected to create lucrative dimensions of the market in the Asia Pacific region.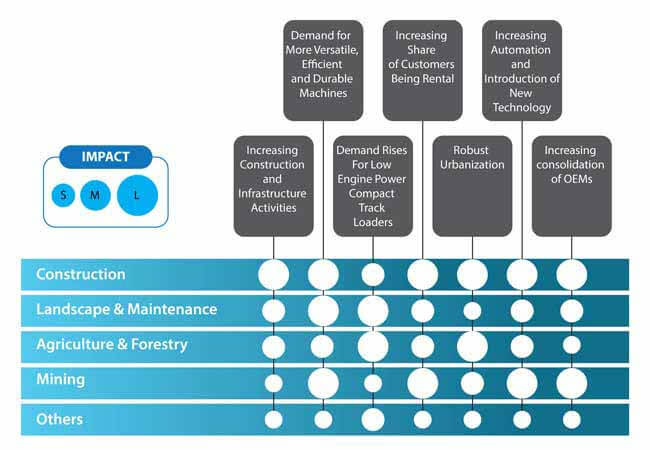 According to the Fact.MR's study, the Asia Pacific compact track loader market is likely to surpass a value of US$ 200 Mn by 2028-end, expanding at a slightly moderate CAGR of 3.5%. Demand for compact track loader in this region is expected to be driven by its enhanced benefits in pushing, lifting, and digging along with minimal ground disturbance and attachment versatility. Ability of compact track loader to operate in sensitive platforms and poor ground condition have further influenced its adoption, which in turn accelerates the market growth.
Request a sample of the report at https://www.factmr.com/connectus/sample?flag=S&rep_id=1661
The Fact.MR's study forecasts the Asia Pacific compact track loader market to remain concentrated in construction and landscape & maintenance application. Agriculture & forestry application has been envisaged to witness a significant growth, exhibiting 4.3% CAGR over the assessment period, 2018-2028. Although China continues to subjugate the Asia Pacific compact track loader market with highest revenue share, market growth rate is expected to be higher in India. On the basis of engine capacity, up to 65 HP compact track loader is estimated to witness relatively higher demand over its counterparts during the forecast period.
The research study on compact track loader market also offers in-depth analysis and key insights of the global market. According to the Fact.MR's study, the global compact track loader market is estimated to be valued over US$ 2,000Mn in 2018, which is likely to expand at significant rate through 2028. North America will continue to be the most dominant region for global compact track loader market. This is likely to be attributed by increasing preferences of compact track loader over steer skid loader among large number of contractors in the region.
Request methodology used to obtain estimates and forecasts at https://www.factmr.com/connectus/sample?flag=RM&rep_id=1661
Prevalence of trade tension between the U.S and other countries is anticipated to have negative influence on the global compact track loader market. Few challenges associated with specific speed requirements and high costs may further affect the growth of the market.
Some leading players currently operating in the global compact track loader market have been profiled in the Fact.MR report. These players include Caterpillar Inc, Komatsu Ltd, Doosan Bobcat Inc, CNH Industrial N.V, Kubota Corporation, Kato Works Co. Ltd., Zhejiang Hero Time Machinery Co. Ltd, Deere & Co., Volvo Construction Equipment and Services, Inc, Yanmar Co. Ltd, JCB, Inc, Wacker Neuson SE, Takeuchi Construction Machinery, Sany Heavy Industry Co. Ltd, and other prominent players.
Purchase the report now at https://www.factmr.com/checkout/1661/S
Contact Us
Mr. Rohit Bhisey
Fact.MR
11140 Rockville Pike
Suite 400
Rockville, MD 20852
United States
Email: [email protected]
SOURCE: Fact.MR
Contact Profile
Fact.MR
---
Fact.MR is a fast-growing market research firm that offers the most comprehensive suite of syndicated and customized market research reports. We believe transformative intelligence can educate and inspire businesses to make smarter decisions. We know the limitations of the one-size-fits-all approach; that's why we publish multi-industry global, regional, and country-specific research reports.
---
Rohit Bhisey
M: +91-9552544427
W:
www.factmr.com
Keywords
Compact Track Loader Market, Asia Pacific Compact Track Loader Market, Compact Track Loader Market Volume, Asia Pacific Compact Track Loader Market Size
Categories
Newsrooms
Sharing
More Formats
View QR Code