Asia Pacific Bicycle Parking Racks Market: Fact.MR Foresees a 2.4x Revenue Growth through 2028
Friday, September 7th, 2018 - Fact.MR
Growing concerns about consumption of biofuels coupled with wide demographic taking up bicycling as an activity and for emission-free ecosystem is directly creating growth prospects of bicycle parking racks market. In emerging economies of Asia Pacific, government initiatives to improve the bicycle infrastructure to establish green ecosystem is fuelling the market for bicycle parking racks, finds a new Fact.MR study. Further, decreasing the use of automobiles and emergence of shared bikes across Asia Pacific are likely to create lucrative dimensions for the bicycle parking racks market in this region. The Fact.MR's study offers in-depth analysis and key insights of the Asia Pacific bicycle parking racks market.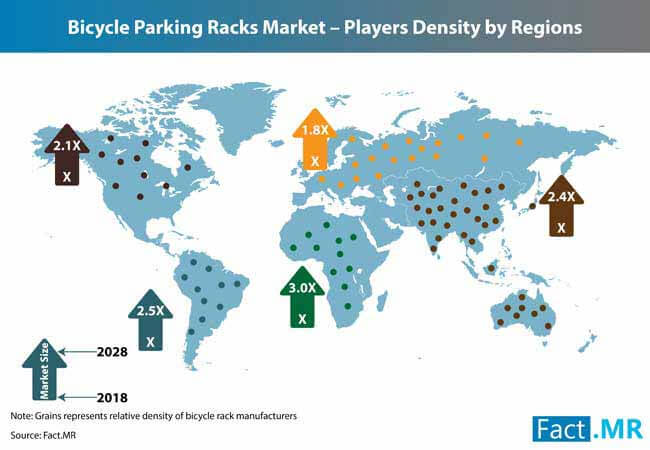 The Asia Pacific market for bicycle parking racks is estimated to witness 2.4x increase over the assessment period from 2018-2028. China is likely to be in the vanguard of the market, with expansion of two bike-share operators, Ofo and Mobike across 200 cities in 2018. In the recent times, shared bikes are largely adopted for public commute which surged the demand bicycle parking racks. In addition, concerns regarding heedless parking of shared bikes and blocking public spaces have escalated the adoption of bicycle parking racks in the Asia Pacific region.
A sample of the report can be availed at https://www.factmr.com/connectus/sample?flag=S&rep_id=1205
With increasing consumer preference for advanced parking solutions, manufacturers are making efforts to integrate digital security systems including camera surveillance and alarms that eliminate the risk of thefts. In addition, promotion of use of bicycles across schools, institutions, and companies are further likely to bode well with the growth of Asia Pacific bicycle parking racks market. Asia Pacific, being the largest market for bicycles, around 900 million units of bicycle parking racks are expected to be sold across the region by 2028-end, according to the Fact.MR's study.
In terms of application, while public segment continues to dominate the Asia Pacific market for bicycle parking racks, private and commercial segments are anticipated to witness a robust growth. Maximum sales of bicycle parking racks in Asia Pacific is likely to generate through value added reseller, with specialty stores and direct-to-customer channels complementing growth.
For more insights of the market, get in touch with an expert analyst at https://www.factmr.com/connectus/sample?flag=AE&rep_id=1205
Along with Asia Pacific, the global outlook of bicycle parking racks market continues to be optimistic, reveals the Fact.MR's study. Overall sales of bicycle parking racks is expected to cross over 4 billion units by the end of 2028, expanding at a significant volume CAGR of 8.2%. By product type, traditional bicycle parking racks is estimated to contribute the highest revenue share during the forecast period, 2018-2028. Owing to demand for better parking solutions, digital bicycle parking racks foresee higher sales in the coming years.
Europe is anticipated to be the most dominant regional market for bicycle parking racks, followed by North America and Asia Pacific. Annually, around 20 million bicycles are sold across European nation, which in turn escalated the demand for bicycle parking racks. Some of the leading players actively operating in global bicycle parking racks market have been profiled in the Fact.MR report. They include Bikeep Inc., Dero Bike Racks Inc., Forms and Surfaces Inc., Ground Control Systems, Reliance Foundry Co. Ltd., Urban Bicycle Parking Systems Inc., Cycle-Works Ltd., Falco BV Ltd., Graber Manufacturing Inc., Leda Security Products Pty Ltd., Saris Cycling Group Inc.
The report can be purchased at https://www.factmr.com/checkout/1205/S
Contact Us
Mr. Rohit Bhisey
Fact.MR
11140 Rockville Pike
Suite 400
Rockville, MD 20852
United States
Email: [email protected]
SOURCE: Fact.MR
Contact Profile
Fact.MR
---
Fact.MR is a fast-growing market research firm that offers the most comprehensive suite of syndicated and customized market research reports. We believe transformative intelligence can educate and inspire businesses to make smarter decisions. We know the limitations of the one-size-fits-all approach; that's why we publish multi-industry global, regional, and country-specific research reports.
---
Rohit Bhisey
M: +91-9552544427
W:
www.factmr.com
Keywords
Asia Pacific Bicycle Parking Racks Market, Bicycle Parking Racks Market, Bicycle Parking Racks Sales, Bicycle Parking Racks Market Volume
Categories
Newsrooms
Sharing
More Formats
View QR Code