Asia Pacific Flash Dryers Market Driven by Burgeoning Demand from Region's Chemical Sector
Thursday, September 6th, 2018 - Fact.MR
Adoption of flash dryers has increased significantly in the recent years, owing to their application in process industries such as food, chemical, and minerals. With prominent manufacturers focusing on development of innovative products and growing food industry in China and India, Asia Pacific flash dryers market will continue to remain bullish, finds a new Fact.MR study. Emergence of customized products and emphasis on quality and efficiency have escalated the importance of flash dryers in the Asia Pacific region. China, being the largest tea producer, has witnessed high demand for flash dryers in tea processing industries.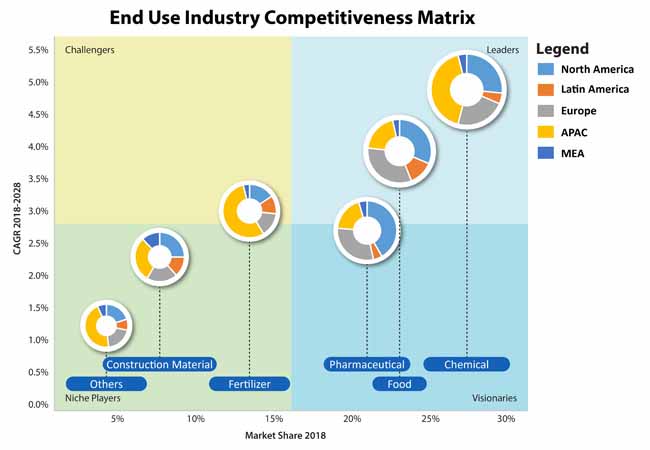 Being the highly populous continent, Asia Pacific continues to focus on high-quality processed food along with unceasing increase in total food production. These factors are likely to pose a positive influence in the growth of flash dryers market in the Asia Pacific region, according to the Fact.MR's study. Government initiatives to enhance the manufacturing growth coupled with industrial growth and well-connected infrastructure in developing countries are further likely to accelerate the demand for flash dryers.
A sample of the report can be availed at https://www.factmr.com/connectus/sample?flag=S&rep_id=1600
According to the Fact.MR's study, Asia Pacific account for leading share in global flash dryers market in terms of both value and volume. Availability of wide range of flash dryers related to size, quality, and efficiency have further catalyzed their demand from end-use industries. The Fact.MR's forecasts the global flash dryers market to register a moderate CAGR of 3.4% during the period 2018-2028, which is likely to cross a value of US$ 1,200Mn by 2028-end. Incessant rise in new food products and chemical project worldwide will possibly create lucrative opportunities for leading players of global flash dryers market.
On the basis of size, large-sized flash dryers will continue to maintain its dominance in global flash dryers market in terms of revenue. However, medium-sized flash dryers are likely to gain higher traction over the forecast period. Emergence of continuous spin flash dryers and surge in their demand from small as well as medium industries are expected to accelerate the sales of medium-sized flash dryers. This segment has been envisaged to exhibit a faster sales growth, accounting for two-fifth share of the global flash dryers market.
For additional information, get in touch with an expert analysts at https://www.factmr.com/connectus/sample?flag=AE&rep_id=1600
The end use of flash dryers is likely to remain concentrated in chemical industry which holds about 27% of the revenue share in the global flash dryers market. Food and fertilizer sectors are further anticipated to complement growth in global market for flash dryers.
While the development of advanced flash dryers such as cyclone and shaft-type flash dryers continues to deliver higher sales, few challenges are likely to create hindrance in the market growth. Over consumption of energy in drying process and dependency on fuels and gas for indirect operation of flash dryers are expected to arrest the growth of global flash dryers market. In addition, restriction of using drying equipment in several process industries will possibly affect the sales of flash dryers. However, advent of energy-efficient and cost-effective products such as spray dryers and fluidized bed dryers will remain key driving factors in the coming years.
Buy the report now at https://www.factmr.com/checkout/1600/S
Contact Us
Mr. Rohit Bhisey
Fact.MR
11140 Rockville Pike
Suite 400
Rockville, MD 20852
United States
Email: [email protected]
SOURCE: Fact.MR
Contact Profile
Fact.MR
---
Fact.MR is a fast-growing market research firm that offers the most comprehensive suite of syndicated and customized market research reports. We believe transformative intelligence can educate and inspire businesses to make smarter decisions. We know the limitations of the one-size-fits-all approach; that's why we publish multi-industry global, regional, and country-specific research reports.
---
Rohit Bhisey
M: +91-9552544427
W:
www.factmr.com
Keywords
Asia Pacific flash dryers market, Global flash dryers market, flash dryers market size, flash dryers market volume, flash dryers market forecast
Categories
Newsrooms
Sharing
More Formats
View QR Code