Asia Pacific PET Containers Market Continues its Bullish Run, PET Bottles Top-Selling Category, Finds Fact.MR
Friday, August 24th, 2018 - Fact.MR
The Asia Pacific PET containers market continues its bullish run, as cost-effective packaging gains prominence among food and beverage companies. The lucrativeness of the Asia Pacific PET containers market can be gauged from the fact that demand in the region accounts for 60% of total global volume. Fact.MR in its report on PET containers market maintains that Asia Pacific will maintain its prominence in the global PET containers market throughout the assessment period 2018-2028.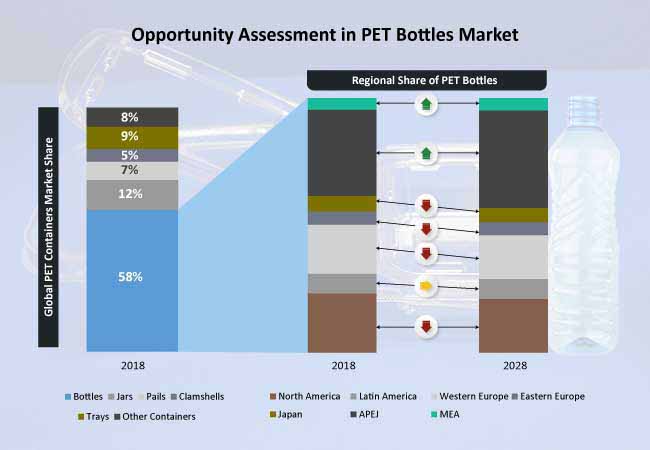 Analyzing the key factors influencing demand for PET containers, the report lists growing popularity of single-serve beverages and manufacturer focus on offering a range of packaging styles and formats. The momentum in the market is likely to continue as a combination of factors, including urbanization, e-commerce boom, and launch of hypermarkets influence the market positively. The lucrativeness of the region has influenced global giants including PepsiCo and Coca-Cola to bolster their presence in the region. The Fact.MR study offers detailed market forecast and sizing on various types of PET containers. According to the report, PET bottles remain the highest selling category, with PET jars a distant second in terms of revenues.
Get a glimpse of the key points covered in the report. A sample is available upon request at https://www.factmr.com/connectus/sample?flag=S&rep_id=1321
The PET containers market in Asia Pacific is concentrated in China and India, with the potency in these economies reflecting on the broader packaging industry. The outlook on China and India remains positive, as these Asian giants compete for global economic supremacy. The underlying factors, such as mass migration to cities and changing lifestyles is likely to push up demand for beverages, which in turn will augur well for the prospects of the PET containers market.
The Fact.MR research on PET bottles market offers a positive outlook; however, stringency in regulations has led manufacturers to adopt sustainable alternatives. Growing concerns on the use of plastic bottles and jars has led to bans and restrictions in many parts of the world, impacting the prospects of manufacturers. These developments have also influenced manufacturers to adopt recycled PET containers. According to PET Container Recycling Europe, the recycling rate in Europe has witnessed an increase of over 7% in 2016 over 2014.
Buy the report at https://www.factmr.com/checkout/1321/S
The research study on PET bottles market also offers global market analysis and forecast. According to the study, the global PET bottles market is likely to grow at a CAGR of over 5% during the assessment period. The competitive landscape in the PET containers market remains highly fragmented, with a number of local players holding sway in certain markets. Plastipak Holdings, a leading multi-national player, has over 3% revenue share – according to the study, nearly 35% revenue share in the PET containers market is held by top ten players. The report profiles some of the leading players in the PET containers market including  Plastipak Holdings, Inc., RETAL Industries Ltd., ALPLA Werke Alwin Lehner GmbH & Co KG, Resilux NV, Taiwan Hon Chuan Enterprises Co., Ltd., Esterform Packaging Limited, Berry Group, Inc, Indorama Ventures Public Co., Ltd, Zhongfu Enterprise Co Ltd., and Eskapet Pet Ürünleri Kimya San. ve Tic. Ltd.
Looking for insights unique to your business? Customization is available for this report. Get in touch at https://www.factmr.com/connectus/sample?flag=RC&rep_id=1321
Contact Us
Rohit Bhisey
Fact.MR
11140 Rockville Pike
Suite 400
Rockville, MD 20852
United States
Email: [email protected]
Contact Profile
Fact.MR
---
Fact.MR is a fast-growing market research firm that offers the most comprehensive suite of syndicated and customized market research reports. We believe transformative intelligence can educate and inspire businesses to make smarter decisions. We know the limitations of the one-size-fits-all approach; that's why we publish multi-industry global, regional, and country-specific research reports.
---
Rohit Bhisey
M: +91-9552544427
W:
www.factmr.com
Keywords
PET Containers, PET packaging, PET containers market, Asia Pacific PET containers market, Australia PET containers market, PET bottles market, PET Jars market volume
Categories
Newsrooms
Sharing
More Formats
View QR Code