Apple Watch Fitness competitor launches 1st of April ;-)
Monday, March 30th, 2015
As industry leaders we thought it was timely that your readers should be made aware of the Apple Watch beating ptWatch on the first of April!
You'll be blown away by the features, please see a copy of our webpage below or at http://www.fitnessenhancement.com/blog/apple-watch-fitness/ or contact us a [email protected] for further PR material or your very own ptWatch!
Forget the Apple Watch fitness apps, get the Fitness Enhancement ptWatch for the features you really need!
You can be one of the lucky few to get the new ptWatch developed by our leading Fitness Enhancement Personal Trainers! Better yet, enquire on the 1st of April and get a free ptWatch just for sharing this post on Facebook or #applewatch anywhere you like!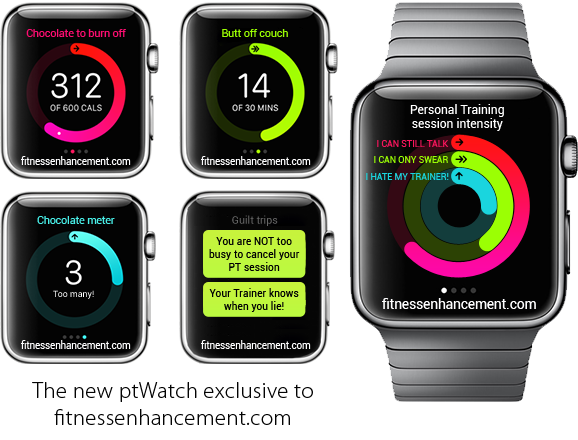 Forget the Apple Watch fitness functions, we give you the features that make sense to you and your goals!
Butt off couch meter
Our research shows you don't need the Apple Watch fitness features you can't make sense of. The ptWatch talks in your language with simple terms for the things that matter like the "Butt off couch meter" for how much more incidental exercise you need to do and the "Rabbit food mater" to calculate how many servings of salad you need to eat still.
More personal than Apples "most personal device yet"
Choose your favourite (or most hated) Fitness Enhancement Personal Trainer to personally coach you through your day on the ptWatch. What could be more personal than a Personal Trainer?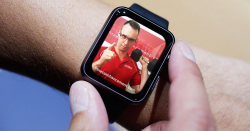 Fast food GPS tracker
We've mapped every fast food joint in the country. Walk in to one and the ptWatch GPS will automatically send a notification to your Trainer. Expect a very stern lecture when your ptWatch auto answers (no you can't turn it off) your Trainers phone call while downing that burger.
Chocolate meter
Pick up a chocolate bar and the ptWatch will detect the smell and give you an electric shock (Warning, battery life may be shortened with this feature). Keep eating that chocolate and the amount you have to burn off will be added to the patented "chocolate to burn off meter".
Facebook truth auto add
If you feel a need to post to Facebook or Twitter every time you work out (just like anyone who does CrossFit!) and have a habit of leaving out the full story, don't worry your ptWatch will be kind enough to add the full story to keep you accountable.
You: "Smashed out a huger Gym session feeling pumped!"
ptWatch auto added: "…due to feeling guilty about smashing that family size chocolate bar I hide!!!"
Launching on April 1st
We have very limited supplies and you can only get a free ptWatch if you share this on Facebook or anywhere you like vis #applewatch and contact us to arrange your order and colour. Available colours are Banana Yellow, Paleo Pattern, Brocoli Green and Slimming Salad
File Library
Contact Profile
Keywords
Apple Watch, apple, iphone, April fools day, 1st of April, fit bit, wearable technology, fitness, weight loss, personal trainer, smart watch, gym, exercise
Categories
Newsrooms
Sharing
More Formats
View QR Code