SOPRANO GAMMA Recognised as Top Enterprise Messaging Product in Australia
Thursday, September 4th, 2014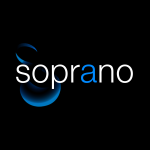 Australia iAwards Selects SOPRANO GAMMA From Hundreds of New Technology Products Driving Innovation Across the Economy
SYDNEY, AUSTRALIA – Soprano Design, a leading business messaging solution provider, today announced it was named a Merit Recipient in Australia's 2014 National iAwards. The award was received in the New Product category for its SOPRANO GAMMA product, a groundbreaking mobile messaging solution designed for business and government use.
The iAwards honour companies and products at the cutting edge of technology innovation and recognise the achievements of Australian innovators. With this award, SOPRANO GAMMA joins an elite class of innovation emerging from Australia this year. Of the hundreds of products submitted and competing at the regional levels earlier this year, only 20 entries advanced to the national finals, and SOPRANO GAMMA was recognised as a top-three national finalist among all products in the category, and the top enterprise messaging product.
SOPRANO GAMMA is a stylish and innovative mobile messaging solution for businesses that enables a feature-packed multimedia messaging experience for Android and iOS users, but does so without sacrificing the ubiquitous reach and immediacy of SMS. This tight integration of IP and SMS messaging means businesses can finally consider making a calculated transition away from SMS, which is placing an unnatural ceiling on innovation due to SMS costs and lack of much-needed productivity and security features. SOPRANO GAMMA can allow a business to move all devices or just one device at a time over to a secure, multimedia IP-based environment that is compatible across country borders, and introduces an array of interactive productivity and collaboration features deployed with mission-critical performance and security.
"We are truly honoured by this distinction from one of Australia's leading professional organisations that showcases the most innovative products across our continent," said Horden Wiltshire, CEO of Soprano Design. "Our customers who have already been using this product this year are extremely excited about the way the solution delivers new multimedia features without sacrificing SMS reach, and how it establishes a mission-critical and secure environment while maintaining a modern, elegant and user-friendly experience. We call this the 'consumerisation of enterprise messaging' and the 'enterprisation of consumer messaging'. The product feels familiar, it's "SMS-like" but it does so much more, and because of this it's producing a confidence factor for making a transition away from SMS to IP-based messaging, which we're convinced represents the future of enterprise mobile messaging. We're thrilled that iAwards has recognised this transformative potential of SOPRANO GAMMA in a space that has become hot once again thanks to the way IP messaging has taken the consumer messaging world by storm."
SOPRANO GAMMA can enhance existing business messaging use cases with new multimedia and person-to-person collaboration tools, and powerfully enables a vast number of new B2B and B2C use cases that can take advantage of encryption, real-time visibility showing when messages are sent, delivered or read, and APIs for automation and integration with existing business systems and applications. Equally as important, SOPRANO GAMMA is powered by Soprano's proven, stress-tested centralised administration platform enabling full control, reporting and auditability.
The SOPRANO GAMMA solution is available today. Learn more at www.sopranodesign.com/solution.
About Soprano Design
Founded in 1994, Soprano Design is privately-held and headquartered in Sydney, Australia with regional offices in New Zealand, US, UK, Singapore, Sweden, The Netherlands, Malaysia, and Romania. Soprano is the premier enterprise messaging partner for Telstra, and today Soprano is a strategic partner to 15 mobile network operators in 4 major global regions, including AT&T, EE, Starhub, and Vodafone. Soprano solutions are actively deployed by thousands of enterprise and government organisations around the globe. Soprano's award-winning SOPRANO MEMS cloud-based messaging platform delivers a powerful messaging capability for B2B and B2C messaging and integrates tightly with the new and innovative award-winning SOPRANO GAMMA mobile application to deliver a powerfully integrated IP, SMS, MMS, voice, and location messaging experience. Learn more at www.sopranodesign.com.
Press Contact:
Robert Nachbar
Kismet Communications
[email protected]
+1 206-427-0389
Video
Contact Profile
Horden Wiltshire
---
Horden Wiltshire is Soprano Design's Chief Executive Officer and has served in this role from early 2012. Horden is a seasoned technology executive specialising in managing global high-growth companies, and he has held leadership roles in the mobile industry for more than 10 years.
Since joining the business Horden has overseen the rapid acceleration of the company's expansion through organic growth into new markets, and he has seen the business emerge as a global leader in the enterprise messaging industry. He has inspired operational improvements and product innovation initiatives that have led to significant business' expansion into Asia, Europe and the United States, and he has established a global executive team to manage operations, sales, finance and marketing efforts as the company now conducts the majority of its business outside of Australia and New Zealand.
Prior to joining Soprano, Horden served as the CEO of the mobile solutions company Mnet Group (ASX:MNZ) and its forerunner m.Net Corporation for nine years. In his time as CEO Mnet enjoyed rapid growth; being listed in either the Deloitte Fast 50 or the BRW Fast 100 over three consecutive years. Mnet won numerous industry awards and was named the prestigious B&T Digital Services Company of the Year. Horden has held directorships at a number of technology companies and possesses extensive practical M&A experience within the sector. Horden's earlier successful career in the Royal Australian Navy culminated in command of the state of the art Collins class submarine HMAS SHEEAN.
Horden's academic qualifications include BE (Hons), MBA and MSc (Technology Commercialisation)
---
Horden Wiltshire, CEO
P: +61 2 9900 2200
M: +61 418 886 061
W:
www.sopranodesign.com
Keywords
Mobile Messaging, Enterprise Messaging, Business Messaging, Corporate Messaging, Secure, Security, IP, OTT, A2P, P2P, Multimedia
Categories
Newsrooms
Sharing
More Formats
View QR Code