Apex Australia Teenage Fashion designers set to rock The Whitehouse
Wednesday, October 2nd, 2013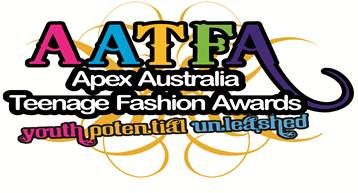 October 19 will see the long awaited 2013 National final of the Apex Australia Teenage Fashion Awards (AATFA) to be hosted at The Whitehouse Institute of Design in Melbourne. School based designers aged between 13 and 19 from each State will be competing in four categories Formal Wear, Casual Wear, Wearable Art and Society & Environment.
 AATFA is excited to announce international bridal designer, Henry Roth, will once again be part of the judging panel, Skyping in live from Hong Kong.  The doyenne of the Roth brand, the founder, creative and head designer, Aneta Weinrich (also Henry's mum) will present the award to the 2013 Young Designer of the Year.
2012 AATFA Young Designer of the Year, Tess Tavener-Hanks (middle) with her three designs that captivated the judging panel. Images Copyright Aldona Kmiec Photography
Other members of the Judging Panel include author, Jennifer Kloesters, who joins together with AATFA to celebrate the release of her novel, 'The Cinderella Moment'; while Emma Manks from The Butterfly Foundation returns to continue the AATFA messages of positive body image and self-acceptance.

Media, fashion schools, fashion agencies and all interested parties are invited to discover the calibre of the upcoming designing talent in Australia.  Judging by the standards and creative talent seen in the 2012 competition 2013 is sure to raise the bar even higher:   http://www.aatfa.org.au/Photo-Gallery/Photos-2012
The Whitehouse Institute of Design
Level 4 672 Bourke St, Melbourne
AATFA media liaison: Jo-anna Egart

m:  0450 562 662                                             
Video
Contact Profile
Apex Australia Teenage Fashion Awards
---
The Apex Australia Teenage Fashion Awards (AATFA) has been an annual event for Apex Australia over the past 23 years. In conjunction with secondary schools throughout Australia, Apex provides students with the opportunity to design, manufacture and model their own fashion garments. AATFA is youth potential unleashed!
---
Jo-anna Egart
M: 0450562665
W:
www.aatfa.org.au
Keywords
teenage, fashion, design, Apex, AATFA, youth, culture, Whitehouse,
Categories
Sharing
More Formats
View QR Code