Remembrance Bike Ride supporting NSW Police Legacy now in its 5th year
Tuesday, March 21st, 2017
The 2017 Remembrance Bike Ride supporting NSW Police Legacy enters its 5th year in 2017 and is being held from Friday 28th to Sunday 28th April.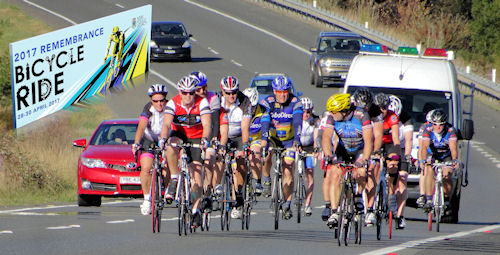 The event sees all riders leave from the NSW Police Memorial Wall in The Domain, Sydney, and ride 300km to the National Police Memorial in Canberra.
Organiser and creator of the ride, Craig Tonks, looks back on something that merely began as an idea to raise funds for Legacy.
"It's hard to believe that on a cold and wet morning in April 2013, twenty riders set off on a ride to Canberra, not knowing how we would make this idea work, but not only did it work, it grew bigger every year to what we see now".
Those first riders raised an amazing $17,000, and so began their own legacy - a legacy which involved the creation of educational scholarships to fulfil the needs of legatee children, many who had lost the main income earner for their family.
"The Police family always comes together when times are tough, and there is no tougher time than losing a parent"
The ride begins in Sydney before completing the first day in the beautiful Southern Highlands town of Mittagong.
The second day sees the riders cruise the scenic Highland Way before arriving at the NSW Police College in Goulburn.
The final day will see the riders head down the Federal Highway towards our nations capital, culminating in an emotional ceremony at the National Police Memorial.
"There's a lot of time during the ride when it gets tough, I can be wet and cold but I always keep thinking about the families I'm riding for. I know they would love to endure this pain just to see their loved one again"
The 2017 Remembrance Bike Ride is sponsored by Police Bank and uses the Go Fundraise fundraising portal.
The general public can join in too and help raise funds for NSW Police Legacy by going to the fund raising page. From there simply select a team or an individual rider, and donate whatever you feel comfortable with. Any support is greatly appreciated and will be warmly received by NSW Police Legacy and the wider NSW Police family.
Video
File Library
Contact Profile
Remembrance Bike Ride
---
The Remembrance Bike Ride supporting NSW Police Legacy is a 3 day, 300km bicycle ride for riders of all abilities to raise funds for NSW Police Legacy, which is a not-for-profit organisation who looks after the families of deceased police officers, whether their death occurs on or off duty.
---
Snr. Const. Craig Tonks
M: 02 4323 5599
W:
www.facebook.com/NswPoliceRemembranceRideRememberTheFallen/
Keywords
nsw police, police legacy, remembrance bike ride, nsw police legacy
Categories
Sharing
More Formats