Bowel Cancer Australia Charity Cricket Tournament - Emergency Services Mega Bash
Sunday, February 10th, 2013
On Sunday 17 February 2013, the 2nd annual 'Emergency Services Mega Bash' charity cricket tournament will be played between Emergency Services at Gwawley Oval, Taren Point Rd, Taren Point. Matches commence at 8am. The Emergency Services represented include personnel from NSW Police Force, NSW Ambulance, NSW Rural Fire Service, NSW State Emergency Service, NSW Fire & Rescue.

The day is in aid of raising funds for Bowel Cancer Australia. Bowel cancer affects 1 in 12 Australians. which affects 1 in 12 Australians by the age of 85.
"Research conducted has proven Bowel Cancer to be Australia's second biggest cancer killer, second to lung cancer," event organiser Senior Constable Dave Hayes said.
Each match will consist of 10 overs per innings. ICC 20/20 Rules & Regulations will be sanctioned in this 10/10 round robin event, with several modified features to make the day more interesting and fun for players, officials and spectators. "We are anticipating more mega hits this year than last," Senior Constable Hayes said.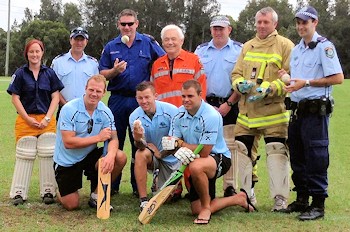 Cricket NSW will be attending with the In2 Cricket clinic and skills area for up and coming cricket stars starting off learning how to bat, catch and field. A jumping castle will be available for toddlers. A BBQ lunch will be available for purchase.
"This is a family oriented day and we encourage all families to attend and join in the festivities," Senior Constable Hayes said.
At 11.30am, a number of celebrities will take to the field and play a match. The match is lucky enough to have a number of NRL Cronulla Sharks players join in the fun, pending injuries, including Cronulla & Australian Captain Paul Gallen, Todd Carney, Luke Lewis, Wade Graham, Tyrone Peachey and Stewart Mills battling it out in friendly fire. Channel 9 personality and reporter and Bowel Cancer Australia Ambassador Erin Molan will also attend lending her hand. More celebrities are expected to attend and play.
"Everyone is out to beat last year's champions, Fire & Rescue," Senior Constable Hayes said. "The biggest winners are sufferers of Bowel Cancer and the related diseases in which Bowel Cancer Australia research," he added.
The Emergency Services Mega Bash is also hosting a mega raffle with first prize being a trip for 2 to Sunshine Coast, with a range of cricket memorabilia also being raffled off in minor prizes. Raffle tickets are on sale for $2 each. Tickets are available by attending Sutherland Police Station, emailing Senior Constable Dave Hayes on
[email protected]
or Sergeant Jayson Heyward on
[email protected]
and transferring money into the nominated Sutherland Credit Union account or telephoning (02)
9542 0702
.
The community are also able to donate funds into
https://give.everydayhero.com/au/emergency-services-mega-bash-2013
for a tax deductible receipt being issued for donations $2 or more, or if purchasing raffle tickets, Sutherland Credit Union BSB# 802330 AC# 33012732.
Each team has been named accordingly:
- Sutherland LAC (aka Blew Boars)
- Miranda LAC (aka Blue Knights)
- NSW Ambulance (aka Sydney Shockers)
- NSW Fire & Rescue (aka All Fired Up)
- State Emergency Service (aka The Storm Troopers)
- Rural Fire Service (aka Burnt Stumps)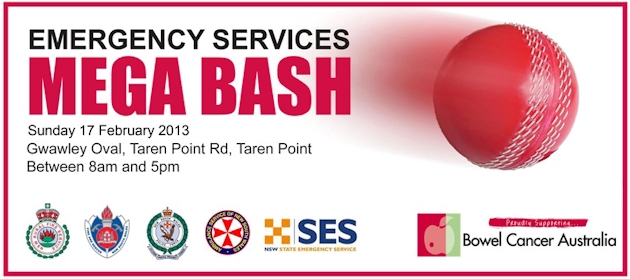 Further information can be sought from Senior Constable Dave Hayes via phone number (02) 9542 0702 or email [email protected].

Sutherland LAC have created a Facebook event page.
File Library
Contact Profile
Keywords
Bowel Cancer Australia, Charity Cricket, Emergency Services Mega Bash
Categories
Sharing
More Formats
View QR Code