Pip's Place Bike Night, with guest Ash De Bakker, supporting Bandaged Bear
Tuesday, November 29th, 2016
Several hundred motorcycle enthusiasts are expected to gather at a small, but popular cafe in North Richmond on December 6th, 2016.
Pip's Place 'Bike Night' is run each month at North Richmond, with one charity chosen to receive the benefits of raffled donated products & services on the night. On December 6th, the chosen charity will be Bandaged Bear (Westmean Children's Hostpital).
And, in keeping with the season, Santa will be coming for all the kids, with a Christmas tree set up for anyone who would like to donate a gift for kids aged 0-16 years.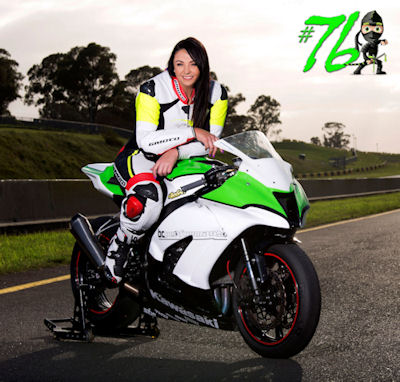 A special guest on this night will be Ash De Bakker. Ash is currently the only woman racing in Australian Formula Extreme (AFX) and Australasian Superbike championship (ASC) in the Formula Oz category.
Ash, speaking about the event at Pip's Place, said "I am so pleased to be involved with an event that not only wants to help the community, but also show that there are plenty of positives within the motorcycling community."
Ashlee is a privateer racer currently by the Kawasaki backed BC performance Team. She is currently 1st in the D Grade championship (Formula Oz category) leading into the final round at Sydney Motorsport Park on 16th and 17th of December 2016.
Ash continued, "I'm so pleased that BC Performance, West Sliders, Ricondi, and MCAS (Motorcycle Accessories Supermarket) have jumped on board and generously donated some fantastic prizes to the raffle."
So, if you want to have a great night out with some great people, meet Ash De Bakker, and support the Bandaged Bear Foundation, get along to Pip's Place Bike Night. It doesn't matter what you ride, all are welcome. Even if you don't have a motorcycle, bring the kids along to see Santa, help support the Bandaged Bear Foundation, & check out some awesome motorcycles.
What: Pip's Place Bike Night
Where: Shop 4, 36-38 Riverview St, North Richmond, NSW
When: Tuesday December 6 at 7PM
Supporting: Bandaged Bear (Westmead Children's Hospital)
File Library
Contact Profile
Keywords
bandaged bear, ash de bakker, de bakker racing, pips place, bike night
Categories
Sharing
More Formats
View QR Code