The Hoff reunites with Tania Zaetta in Team Fortune
Tuesday, January 24th, 2012
The Hoff (David Hasselhoff) will reunite with Tania Zaetta today in 'Team Fortune' for a Celebrity Art Auction. The auction will be held today, Tuesday 24, as part of Australia's second Celebrity Apprentice TV series airing on Channel Nine.

It's been more than a decade since David Hasselhoff and Tania Zaetta first appeared together on one of the world's most popular TV shows, Baywatch.

Now they're back in the spotlight together again - all in the name of Charity for Australia's new Celebrity Apprentice.

Their first challenge together with their team, 'Team Fortune', is to create handmade, exclusive pieces of art to sell in a shop to raise money for charity.

The Celebrity Apprentice Team that raises the most amount of money wins the challenge and is hopefully saved from being sent home.

So, if you're in Sydney, pop on down to The Rocks, check out some unique celebrity artwork, help support a worthy cause, and rub shoulders with the Hoff and the girls from Team Fortune.

Charlotte Dawson, a member of Team Fortune, has tweeted:

"The Hoff has put his life up for sale. Tomorrow. Unbelievable effort for charity @DavidHasselhoff thanks for being brave x #lifedefining"
This tweet indicates the Hoff is putting it all on the line - whatever "it" is - so it should be an interesting day.
Where:
Bottom floor, 47 George Street The Rocks (Sydney)
When:
1pm, Tuesday January 24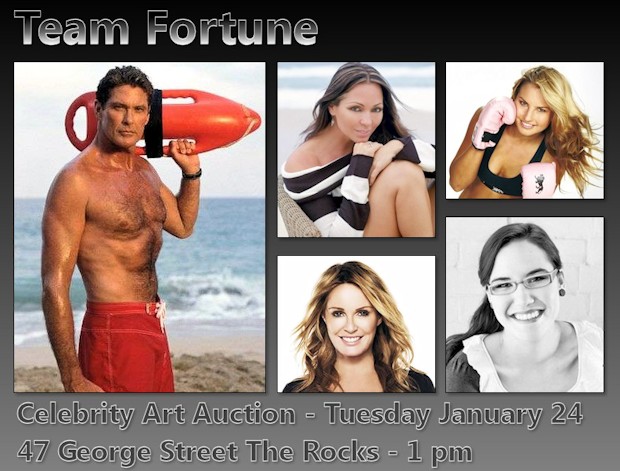 Team Fortune this week includes:
- David Hasselhoff
- Tania Zaetta
- Marion Grasby
- Lauryn Eagle
- Charlotte Dawson
Please note:
This is NOT an official press release from Celebrity Apprentice Australia; we are fans of the show and the charities they help. More information about Celebrity Apprentice Australia can be sourced by visiting the official
Facebook page
.
File Library
Contact Profile
JustWeb
---
JustWeb
* is a Sydney based,
SEO
business, as well as a big fan of Celebrity Apprentice Australia. We have been involved in SEO (search engine optimisation) and website consultation services since 1996. If you can't be found in Google, or need your
press release optimised for maximum effect
, call
JustWeb
* today. To see what others say about us, please read our
client testimonials
.
*JustWeb is a registered trademark in Australia (#1246825)
---
Rob
P: 02 8212 5192
W:
www.justweb.com.au/television/celebrity-art-auction.html
Keywords
The Hoff, Tania Zaetta, Celebrity Apprentice Australia, Team Fortune
Categories
Sharing
More Formats
View QR Code